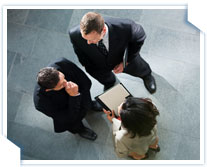 Dinarion Capital Sdn. Bhd. is headquartered in Kuala Lumpur, Malaysia, at the heart of this new trend of closer interconnections between Asia, Europe and the Middle East.

The company was formed in 2010 by two French businessmen who have extensive experience in finance and project development in Asia and the Middle East.

We serve a diverse set of clientele in providing access to financial institutions and helping secure financial resources in both conventional and alternative finance.

We have established a large network of collaboration with specialized law firms, institutions, banks and government bodies, to assist our clients in the best manner.